2s-3s Early Enrichment Program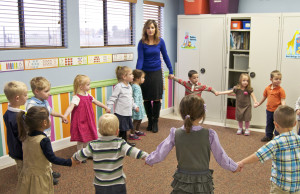 Your two or three year old will enter into a preschool environment filled with safety, comfort, familiarity, excitement, laughter and creativity as learning is introduced! We focus on making education fun and exciting. Our primary emphasis is on social emotional development and problem solving. Colors, shapes, beginning literacy, math and science concepts, imaginative play, creative art projects, indoor and outdoor exercise, games, music and field trips are all a part of our classroom. We look forward to having your child join our class.
---
One thing I love is how much my five year old keeps his parents in check. I'm amazed at how his brain has the power to hold all the information he has learned, not only for a day, but also from last year. Bible verses just come out of his mouth at the most perfect times. It helps us to remember what an awesome job God has bestowed upon us as parents.
Our children have been attending Elmwood since they were two years old. We are very pleased with the results.
After looking at several preschool options in the area, we chose Elmwood because of the loving, safe, and excellent environment they provide. We are very happy to be at Elmwood.