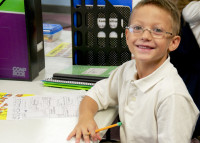 Elmwood Baptist Academy has been a strong Christian school educating and influencing today's youth to be tomorrow's leaders, and has provided "Excellence in Education since 1973."
Mission Statement:
The mission of Elmwood Baptist Academy is to lead students to a close and personal relationship with our Lord and Saviour, Jesus Christ; to train up the next generation of children for Christ; to provide a Biblically based, individualized education; and to prepare and guide all students through an arduous program of academic excellence by Christ-centered teaching, application, and example.
---
Elmwood Baptist Academy is a great school with a ton of wonderful things about it. The teachers are so kind and loving to each student. These teachers are a big reason why this school is where it is to this day.

I like Elmwood Baptist Academy because the teachers care so much for their students. Each day they make sure their students learn something new and they also make sure that they have fun too. They teach the kids that school isn't just a place to be serious, it is also a place where you can have fun.

I like Elmwood Baptist Academy for a few reasons. It's a good school filled with nice people. The education here is amazing! Most importantly, Elmwood teaches you about God. It's so great because every grade learns about the Lord. The teachers are nice and you can be sure you won't pick up any bad habits!

I like Elmwood because I learn more about the Bible in chapel, and the teachers and preachers encourage me to do God's will. I also like Elmwood because of all the classes like wood shop, Patterns for Living, Bible and P.E. I think Elmwood is the best school I have ever been to.

I'm thankful for Elmwood Baptist Academy. The teachers have a personal relationship with their students and take an interest in them.

One thing I love is how much my five year old keeps his parents in check. I'm amazed at how his brain has the power to hold all the information he has learned, not only for a day, but also from last year. Bible verses just come out of his mouth at the most perfect times. It helps us to remember what an awesome job God has bestowed upon us as parents.

I am thankful for Elmwood Baptist Academy for many reasons. The Academy provides not only an excellent academic education but also a spiritual foundation based on the truth of the Bible, God's Word. I take comfort in the fact that my children are taught and cared for through out the day in the same manner that I would teach and care for my children. I know the teachers and many of the students and am comforted in knowing that we share the same beliefs and values.

I prefer a school where teachers are concerned about the students' education. At Elmwood Baptist Academy, teachers ensure that students are learning and understanding before moving on. At the Academy, students are not promoted to the following grade even though they have not fulfilled the requirements because classes are full or some other poor excuse. I would not trade the education that my children receive at Elmwood Baptist Academy for anything.

I love the Elmwood Baptist Academy staff. This is an amazing group of educators who work very well together. They all have the same goal to educate your children on an academic level and to show them a path in which they can walk with the Lord. Although our children are learning and doing amazing things, most of all they are loved and cared for by the staff.

Our children have been attending Elmwood since they were two years old. We are very pleased with the results.

After looking at several preschool options in the area, we chose Elmwood because of the loving, safe, and excellent environment they provide. We are very happy to be at Elmwood.