K-5 Program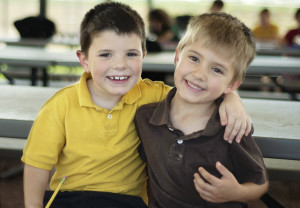 Our kindergarten program is supreme. Designed to challenge your five year old and truly prepare them for elementary school.
We focus on building a strong foundation in reading and writing. The ABeka curriculum is superior to many other kindergarten programs available. Students enjoy varied activities as they learn and review vowel and consonant sounds, blends, one-and two-vowel words, words with special sounds, and sentence comprehension.
Number Skills for Kindergarten uses a colorful book that reinforces number concepts and formation through 100, simple addition and subtraction combinations, telling time, number sequences, number words, and working with money. Children will enjoy the varied activities.
Bible class is complete with solid Bible doctrinal drills and true historical accounts of different people found in the Word of God and how God used them to transform the world. Students are taught that God is real and that He sent Jesus Christ, God in the flesh, to pay for their sin debt so that they can have a home in heaven.
---
One thing I love is how much my five year old keeps his parents in check. I'm amazed at how his brain has the power to hold all the information he has learned, not only for a day, but also from last year. Bible verses just come out of his mouth at the most perfect times. It helps us to remember what an awesome job God has bestowed upon us as parents.
Our children have been attending Elmwood since they were two years old. We are very pleased with the results.
After looking at several preschool options in the area, we chose Elmwood because of the loving, safe, and excellent environment they provide. We are very happy to be at Elmwood.