Elmwood Baptist Academy offers middle school, junior-varsity, and varsity sports to give boys and girls the opportunity to participate in sports throughout the school year. All eligible students are encouraged to take an active part in the school sports program. Active sports participation builds bodies, character, and teamwork while providing a healthy physical outlet. The Christian philosophy of athletics stems directly from the school's Christian philosophy of education. The ultimate goal must be "to be conformed to the image of Jesus Christ" (Romans 8:29) so athletes develop positive Christ-like character qualities and express them through the medium of athletics.
We are an independent school with the ability to play various schools at different levels.
Athletic Director – Pastor Joshua Lehman
Volleyball
(Girls)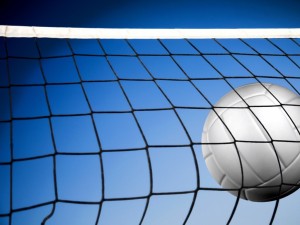 Volleyball season begins August 1st and runs through the middle of October culminating with the ACE Regional tournament in March.
Basketball
(Boys and Girls)

Basketball season begins November 1st and runs through the middle of February culminating with the ACE Regional tournament in March.
---
Athletic Vision
Our commitment is to prepare our athletes for the ultimate test: life as a disciple of Jesus Christ. Athletics are a vital part of the Christian educational process and are an important component in fulfilling the vision of EBA. We believe it is our responsibility to provide programs that allow students to identify and use their God given gifts and talents, to enable them to increase their skill level, and to enhance their overall competitive development in a Christ-like manner. A reflection of our commitment to excellence, our school and our witness to the community, is through our athletes, parents and fans. By design, training, and expectation, the EBA athlete is offered immeasurable athletic opportunities to develop Christ-like character traits participating in competition that mirror life's challenges.
This vision extends to a working philosophy that says: "The value of athletics is not found solely in achieving the athletic goals, though these goals must be strived for with all diligence. The true value of athletics is found in the changes and experiences that the process of striving for the goal produces in the lives of the people who are directly or indirectly involved with the athletic program." In other words, athletics provides an arena whereby students can be trained in Christ likeness.